Armsman

An Armsman.
Vital statistics
Gender
Male
Race
Human
Resources Needed
70 Iron
Buildings Needed
Forge, Master Armory
Weapons
Halberd
Weapon Damage
13-23
Attack Speed
75%
Armorclass
160
Magic
None
Upgrades
None
The Armsman is the most powerful human warrior, dealing almost twice the damage the Recruit does.The Armsman can be seen as cavalry, dealing a lot of damage and having lots of armor but attacking slowly.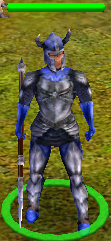 Ad blocker interference detected!
Wikia is a free-to-use site that makes money from advertising. We have a modified experience for viewers using ad blockers

Wikia is not accessible if you've made further modifications. Remove the custom ad blocker rule(s) and the page will load as expected.