Craig Un'Shallach is a norcaine general and member of the Dracon caste, fights alongside his clan against the influence of the ominous Shadows, but the tide of war turns against him. When defeat seems imminent, his daughter Nightsong escapes in order to warn of the approaching menace.
Involvement
Edit
SpellForce: The Odrer of Dawn
SpellForce: The Breath of Winter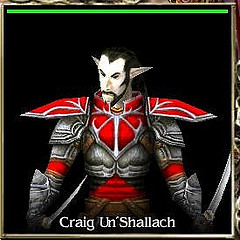 Craig Un'Shallach appears in Shal Dun along with some men and offers his assitance by giving you his men. he does not fight along side you until you'll fight grim in the bunring rock where he fights against him with a sword. when grim is deafted he sends you off to go and get the shadow blade while he stays in shal dun making sure that nothing goes worng but after you have come back the firefangs with shadow balde it turns out that he has been killed by the dark elves from the moon city.
SpellForce 2: Dragon Storm
Ad blocker interference detected!
Wikia is a free-to-use site that makes money from advertising. We have a modified experience for viewers using ad blockers

Wikia is not accessible if you've made further modifications. Remove the custom ad blocker rule(s) and the page will load as expected.