Moonsilver is rare and difficult to work, but it is the culmination of any warrior's career to one day forge his own armour and weapons from this precious metal. It is a long and arduous path that leads this dream's fulfilment, however, a path lined with many victorious battles and deep devotion to the God of War. When this journey is over and the last hammer blows ring, when the warrior leaves the forge clad in gleaming Moonsilver, a new era in his life begins. What follows is often legend. The Elite are the undefeatable core of the dwarven armies, a glittering mountain in the storm of darkness. Never will their ranks falter, and any slain from their midst will be avenged a thousandfold with whirling axes. And though the armies of the light may tremble at the sight of the dark hordes, hope remains as long as the ranks of silver armour stand, an armour no blood can stain, that shines like a star of hope in the death-bringing darkness.
Spellforce 2
Edit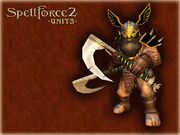 One may rightly assert that there is hardly any other close combat fighter that can bear comparison with an Elite. His two Moonsilver Axes are a whirlwind of death and his dwarfish robustness provides his blows with power and his breath with stamina. Demon or Titan, even the mightiest enemies will not forget the blow of an Elite.
Ad blocker interference detected!
Wikia is a free-to-use site that makes money from advertising. We have a modified experience for viewers using ad blockers

Wikia is not accessible if you've made further modifications. Remove the custom ad blocker rule(s) and the page will load as expected.