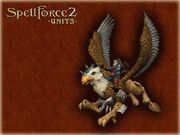 The
Order of Dawn
had for a long time been looking for a way to protect the Light People from the flying creatures of the dark. Under the leadership of Master Matricus, the Order finally managed to utilize the gryphon taming for more than just a few chosen ones. Thus the mages of the order learned the gryphon flight. They sweep over the battlefield like the wind, unreachable for swords and axes, while they weave their feared mental spells above the heads of the enemies, in order to break the spirit of their adversaries.
Ad blocker interference detected!
Wikia is a free-to-use site that makes money from advertising. We have a modified experience for viewers using ad blockers

Wikia is not accessible if you've made further modifications. Remove the custom ad blocker rule(s) and the page will load as expected.